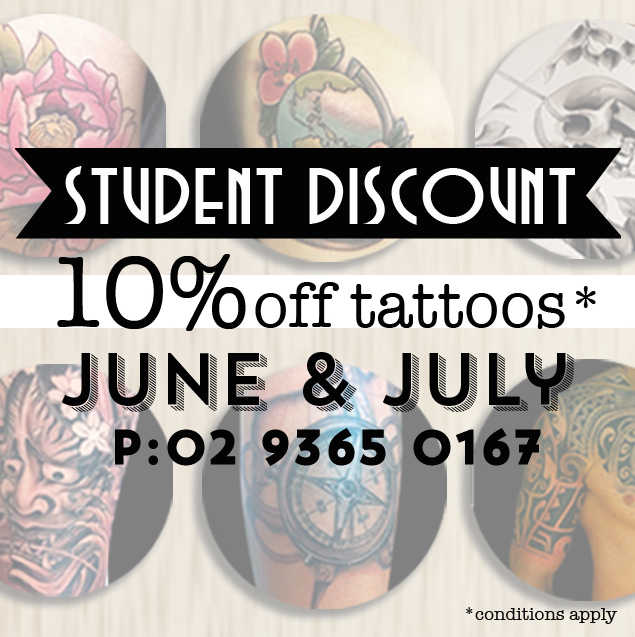 We know it's not always easy being a student. Just because you have less cash doesn't mean that you don't dream in ink. So we're offering students who are currently enrolled in full-time or part-time study 10% off tattoos from two of our tattoo artists during the months of June and July.
Get cracking, check out the portfolios of Evan and Orlando, and contact the studio to book in your new tattoo while there are still spaces for this promo! Or if you're in the area you can always have a chat with our friendly receptionists and they'll give you all the info you need to sort out that booking.
Just like every other promotional deal there are some things we aren't able to do. So best to check our conditions below as we wish to deliver and not disappoint on our tattoo discounts. And bring your student ID card.
Conditions of Student Discount Tattoos
The 10% discount is only applicable to students currently enrolled in full-time or part-time study. A current student card with photo ID must be supplied and may need to be verified by Kaleidoscope Tattoo staff prior to any tattoo being inked.
Students under 18 years of age are not able to access this promotion nor be tattooed at Kaleidoscope Tattoo as per studio policy.
The 10% discount is only applicable to tattoos inked by the following Kaleidoscope Tattoo Artists: Evan Clerke and Orlando Torres. All discounted tattoos will be inked during the normal scheduled hours that the aforementioned tattoo artists' work.
The minimum cost of a tattoo is $100 (including the discount).
The Student Discount Tattoos promotion will expire on Thursday 31st July 2014. Any tattoo incurring the 10% student discount, as part of this promotion, must be inked during the months of June or July 2014.